Hotelroom Drenthe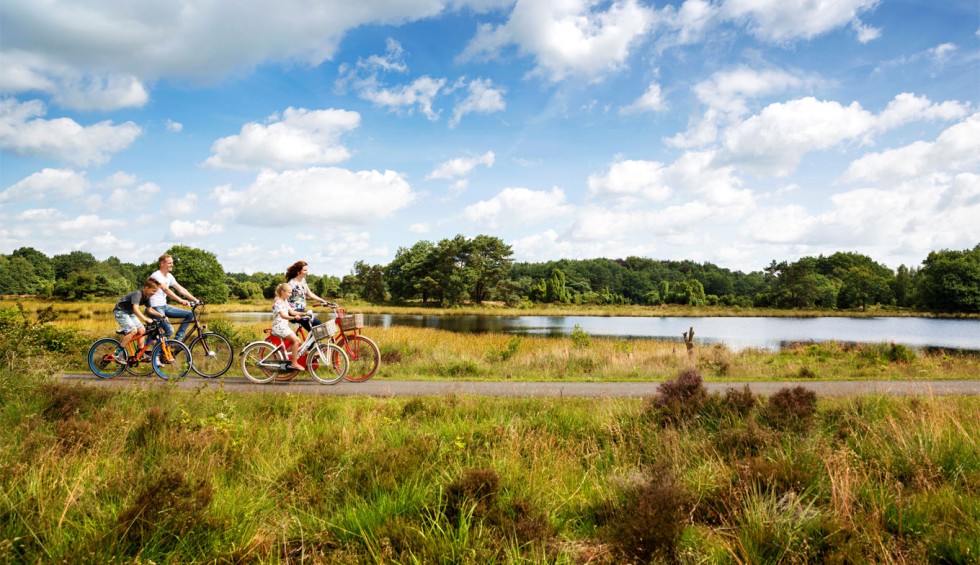 What the province of Drenthe has to offer
Located in the north-east of the Netherlands, Drenthe is a province steeped in history, natural beauty and rustic charm. With its vast landscapes, picturesque villages and rich cultural heritage, Drenthe offers a unique experience for visitors of all ages.
What really sets Drenthe apart is its beautiful natural surroundings. The province is known for its vast heathlands, forests, moors and rivers. National Park Drents-Friese Wold, National Park Dwingelderveld and National Park Drentsche Aa are three of the many natural treasures you can explore. Whether you want to hike, cycle or just enjoy the peace and quiet, Drenthe offers you countless opportunities to relax and enjoy nature.
Besides its breathtaking landscapes, Drenthe also has a rich cultural heritage. The province is known for its hunebeds, prehistoric burial chambers more than 5,000 years old and among the oldest stone monuments in the Netherlands. The Hunebedcentrum in Borger is an excellent place to learn more about these fascinating relics of the past.
In Drenthe's charming villages, time sometimes seems to stand still. Places like Orvelte, a well-preserved 19th-century village, offer you a glimpse into the past with their traditional architecture and atmospheric streets. Assen, the capital of Drenthe, is also worth a visit. Here you will find not only the famous TT Circuit, which hosts the annual MotoGP race, but also the Drents Museum, which houses a wealth of art and archaeological finds.
For lovers of cycling and walking, Drenthe is a true paradise. The provincial cycling route network is extensive and well-maintained, with countless cycle paths leading you past beautiful landscapes and historical sights. In addition, Drenthe is home to the event "De Ronde van Drenthe", a cycling race that attracts thousands of spectators every year.
The province of Drenthe also has a vibrant arts and culture scene. The Memorial Centre Camp Westerbork offers you insight into a dark chapter in the history of World War II.
Discover the surroundings of our campsite in Gasselte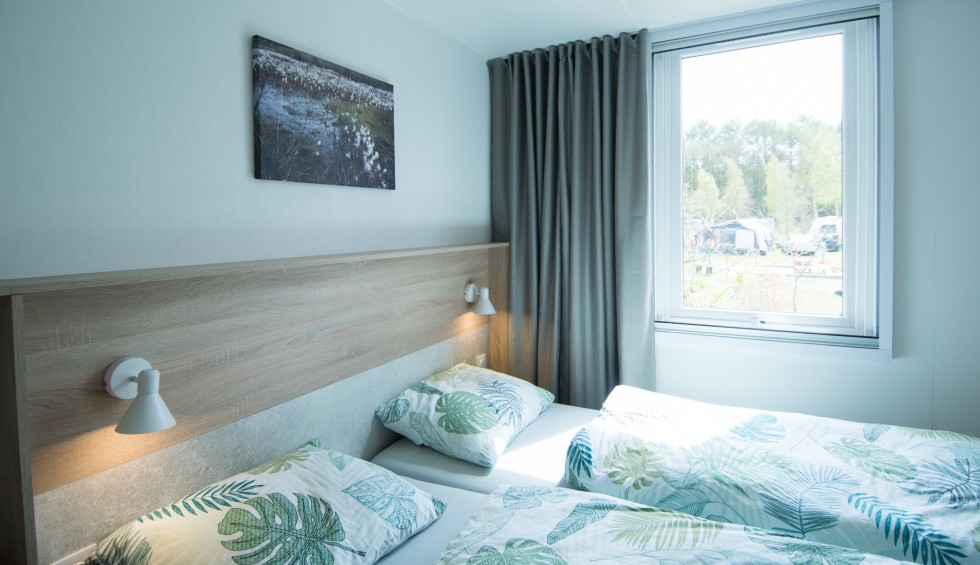 Therefore a hotel room in Drenthe!
Quiet location in Gasselte
Spacious bed and breakfast for 2, 4 and 6 persons
Fully equipped
Own kitchen
Sunshade or canopy
Luxury veranda plus outdoor set
Television and wifi
Comfortable beds
Pleasant bathroom
Parking next to the accommodation
Beautiful cycling and walking routes from the campsite
Several dolmens within walking and cycling distance from the campsite
Surrounded by woods and heathland
Ideal base due to central location
Book a hotel room in Drenthe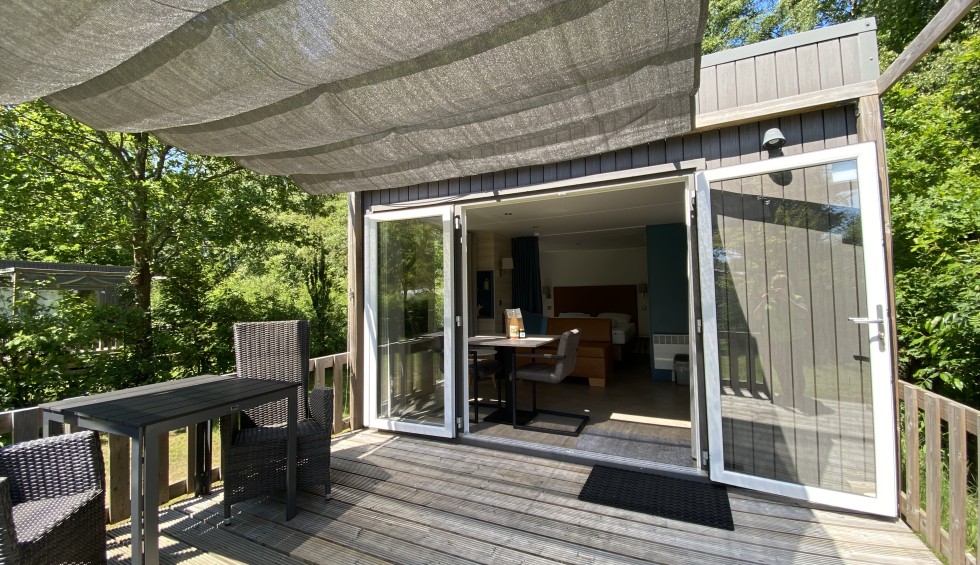 Unique hotel rooms surrounded by nature in the province of Drenthe
Are you looking for a unique and relaxing experience in the province of Drenthe? Then we would like to invite you to Camping de Berken in Gasselte, where you can enjoy hotel rooms in the middle of beautiful nature. Due to our central location, you have easy access to many attractions and quaint villages in the area. Our Birch studios and other accommodation are designed to offer you the ultimate in relaxation, with all the luxury and comfort you need. These special hotel rooms are surrounded by lush forests, picturesque heathlands and set in the enchanting landscape of Drenthe.
Camping de Berken is truly a paradise for hiking and cycling enthusiasts, as it is the ideal base for countless explorations. Our campsite offers spacious hotel rooms suitable for couples to families of up to 6 persons. This allows you to fully enjoy the privacy and comfort during your stay. The hotel rooms in the middle of the Drenthe countryside in gasselte have been carefully designed to create a warm and cosy atmosphere so that you will feel right at home. We look forward to welcoming you at Camping de Berken, where you can enjoy an unforgettable stay in nature.
Check the availability of our accommodations
Our hotel rooms in the nature of Drenthe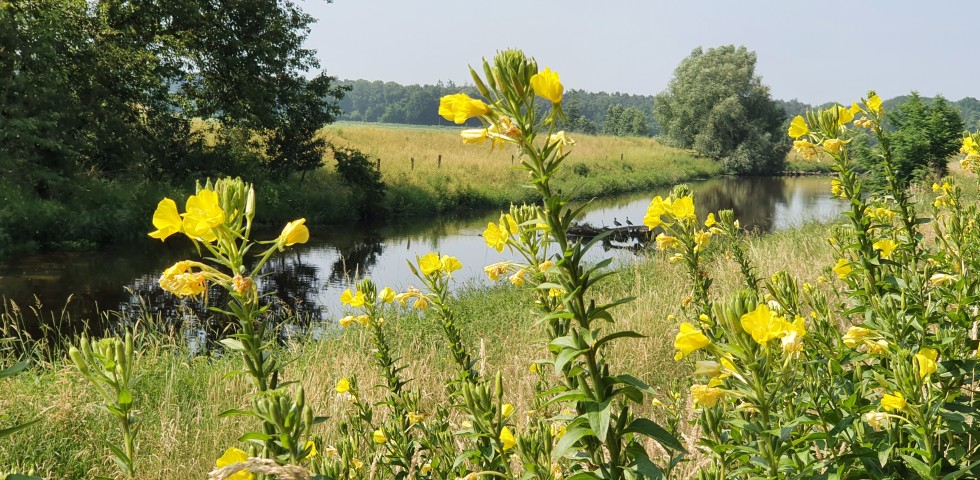 Unfortunately, it was too short but a fantastic stay!
We didn't have any downsides. We had a Berkenstudio. Perfect!
Lutske Stolk
mei 2023
Definitely a place to come back to. Fantastic.
Peace, tranquillity and silence in a green oasis in a Berkenstudio the luxury, with comfort for 2 people.
Zoutman
mei 2023
Nice, quiet campsite
Fine, quiet campsite with friendly people and everything is organised to perfection
Highly recommended for both seniors and families with young children. Less suitable for adolescents. The campsite is situated in a beautiful location with woods and heathland, in short, a sublime base for cyclists and walkers.
Henk Iedema
2020
Lovely campsite with spacious pitches and clean sanitary facilities
The campsite is beautiful, spacious pitches, clean sanitary facilities, at the pitch: water-electricity-drain-cai, a comfortable combination. More than enough walking and cycling routes.
Piet van der Horn
juni 2022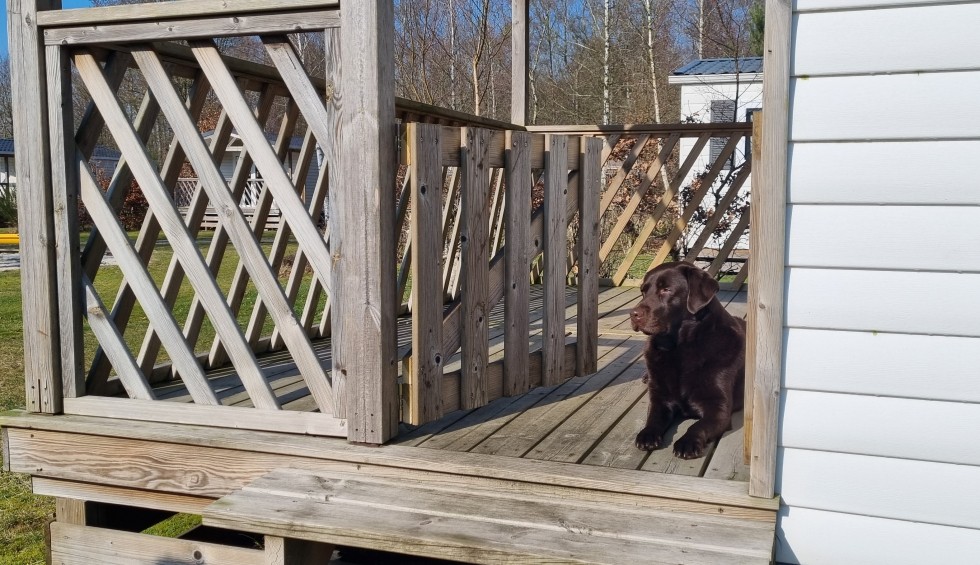 A hotel room in Drenthe with the dog!
Would you like to take your four-legged friend on holiday and enjoy a relaxing stay together? At Camping de Berken in Gasselte, we welcome not only you, but also your dog! Whether you choose a hotel room for 2 or 4 people at our campsite, we offer hotel rooms where your beloved pet will feel as welcome as you.
Our dog-friendly hotel rooms are perfectly adapted to make both you and your dog's stay as comfortable as possible. Moreover, our accommodations are surrounded by beautiful nature, allowing you and your dog to enjoy wonderful walks and relaxing moments in the outdoors together.
At Camping de Berken, we understand that your dog is an important part of your family, which is why we offer various amenities and facilities especially for your faithful companion. In addition, there are plenty of hiking trails and nature reserves in the area where you can explore and have adventures together with your dog.
Accommodation with dog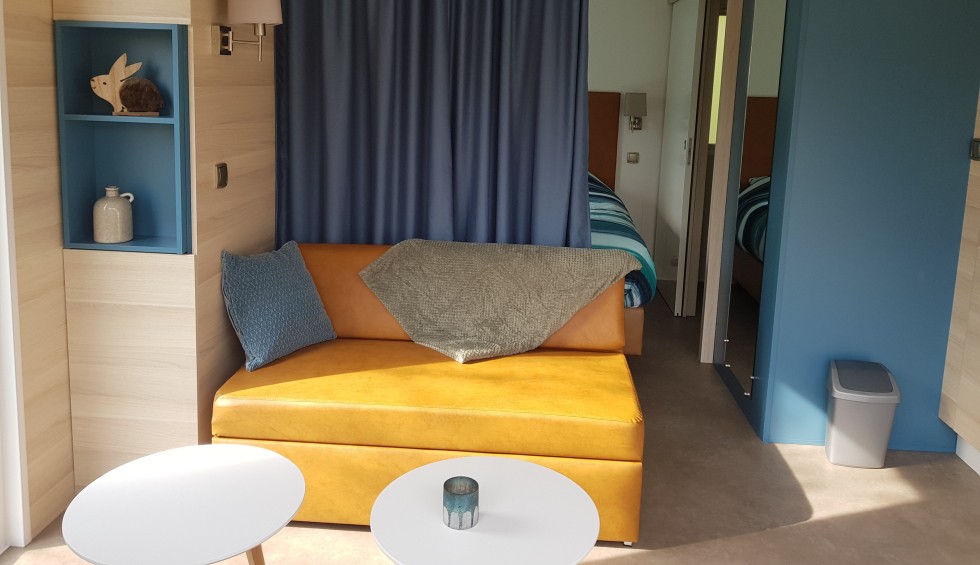 Enjoy a comfortable stay in a Berken Studio or Berken Studio the Luxe
Enjoy comfort and convenience in our carefully designed hotel rooms. Relax on the veranda and enjoy the peace and quiet of nature. Each studio has a convenient kitchenette, allowing you to prepare your own meals and have the freedom to choose when and where to eat.
Wake up each morning rested in the comfortable beds of our studios, ready for a day of adventure. Always stay connected to the outside world thanks to free Wi-Fi and a television in every studio.
To make your stay even more enjoyable, we offer extra services. If you do not want to bring bed linen and towels, you can book a sheet set, towel set or kitchen towel set with us. So you can enjoy your holiday worry-free, knowing that everything has been taken care of for you.
In short, our hotel rooms in beautiful Gasselte offer everything you need for a relaxing and comfortable stay. From the serene veranda to the well-equipped kitchenette, and from the comfortable beds to the modern amenities, we aim to make your stay unforgettable and allow you to enjoy the comfort you are used to at home.
Book a hotel room for 2!
Cycling and walking routes from your hotel room in Drenthe
Drenthe is a beautiful province for walking and cycling enthusiasts. There are countless routes that take you past the most beautiful spots. For real hiking enthusiasts, the Drenthepad is an absolute must. This long-distance path of no less than 329 kilometres takes you along the province's most beautiful natural and cultural-historical sights.
Cyclists also have plenty to discover in Drenthe. The cycling and hiking network is excellently developed and takes you along vast forests, heaths and farmlands. You can determine your own route and thus optimally enjoy the beautiful nature. A unique experience is cycling or walking past the dolmens. These prehistoric stones are a special phenomenon and are part of Drenthe's rich history.
For those who enjoy peace and quiet, a walk along the Drentsche Aa is an absolute must. Here you can enjoy the beautiful landscape and serene surroundings. And if you want to see all the hunebeds in Drenthe, you can follow the Hunebed Highway. This car route from Coevorden to Groningen takes you past all the hunebeds in the province.
Want to make the most of these routes? Then a hotel room in Drenthe at Camping de Berken in Gasselte is the ideal option. That way, you can fully enjoy all the beauty this beautiful province has to offer.
Wilt u optimaal van deze routes genieten? Dan is een hotelkamer in Drenthe op Camping de Berken in Gasselte de ideale optie. Zo kunt u optimaal genieten van al het moois dat deze prachtige provincie te bieden heeft.
More information about hiking and cycling in Drenthe
Impression of our hotel rooms in nature