Bed and Breakfast Borger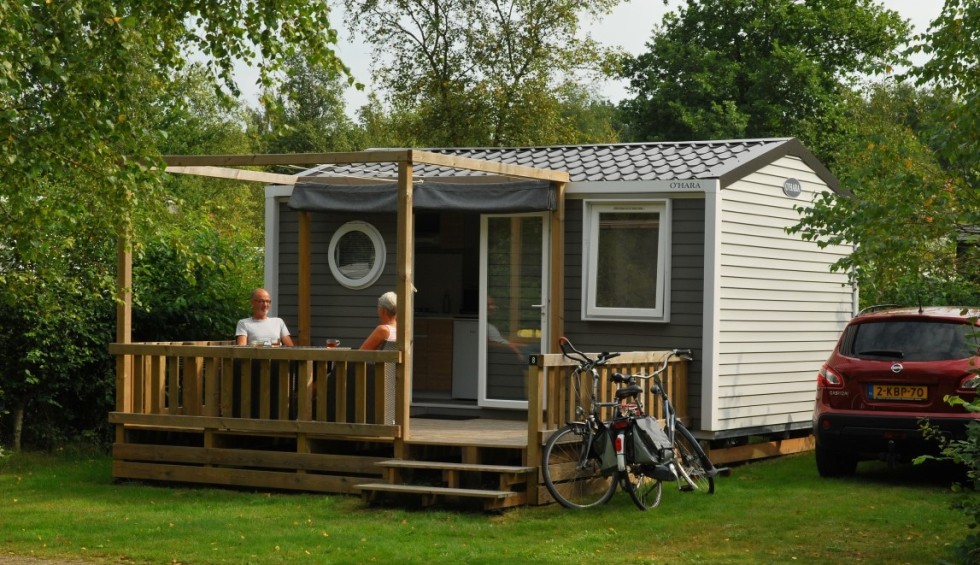 Bed and breakfast in Borger
Are you a lover of the green character and natural charm of a campsite, but at the same time want to enjoy the comfort of your own room? Then our unique Bed and Breakfast near the beautiful village of Borger in Drenthe is definitely for you. Located on our campsite grounds, we offer a range of luxury rental accommodation, including attractive hiker's huts, comfortable rental chalets and cosy birch studios. Combined with our extensive breakfast options, you can have the ultimate B&B experience at our campsite, surrounded by beautiful nature.
Staying overnight and having breakfast in a Bed and Breakfast offers numerous advantages over a traditional hotel stay. Unlike hotels, a B&B has a warm and homely atmosphere, making you feel immediately at ease. Moreover, you will enjoy the quiet location of our B&B, which creates a peaceful environment in which you can completely relax and fully enjoy your holiday. What makes a Bed and Breakfast extra special is the personal attention. They are always ready to provide you with valuable tips and advice on the most interesting sights and activities in the area. Thanks to their local knowledge, you can discover unique places and participate in authentic experiences that you might otherwise miss.
In short, our Bed and Breakfast at the campsite in Drenthe Borger offers you the perfect combination of green tranquillity and the comfort of your own room. With our various rental accommodations, extensive breakfast options and personal attention, you can fully enjoy an unforgettable B&B experience amidst the beautiful natural surroundings.
Book one of our accommodations now!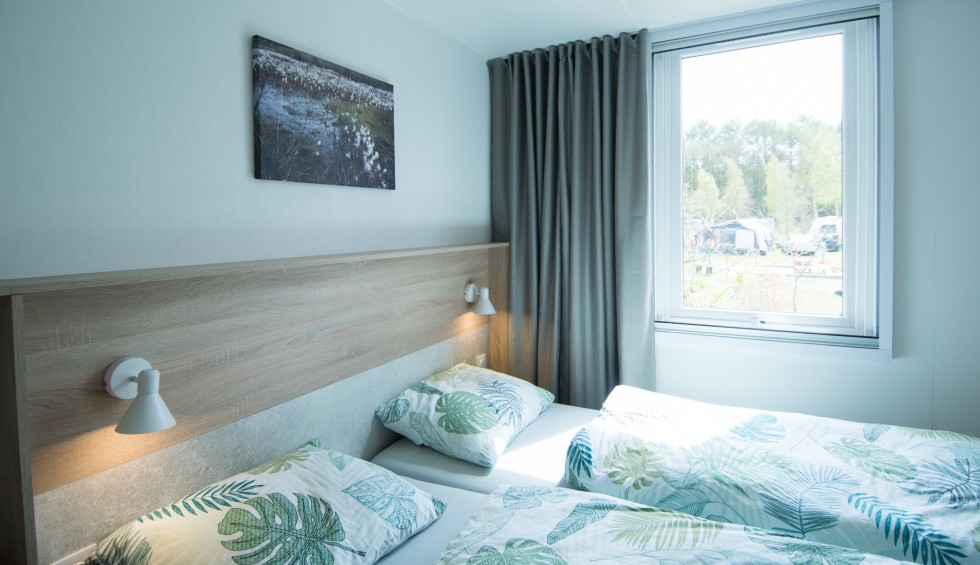 Therefore a bed and breakfast near Borger!
Quiet location 5 km from Borger
Spacious bed and breakfast for 2, 4 and 6 persons
Fully equipped
Own kitchen
Sunshade or canopy
Luxury veranda plus outdoor set
Television and wifi
Comfortable beds
Pleasant bathroom
Parking next to the accommodation
Beautiful cycling and walking routes from the campsite
Several dolmens within walking and cycling distance from the campsite
Surrounded by woods and heathland
Ideal base due to central location
Book a bed and breakfast near Borger
Bed and Breakfast at our campsite near Borger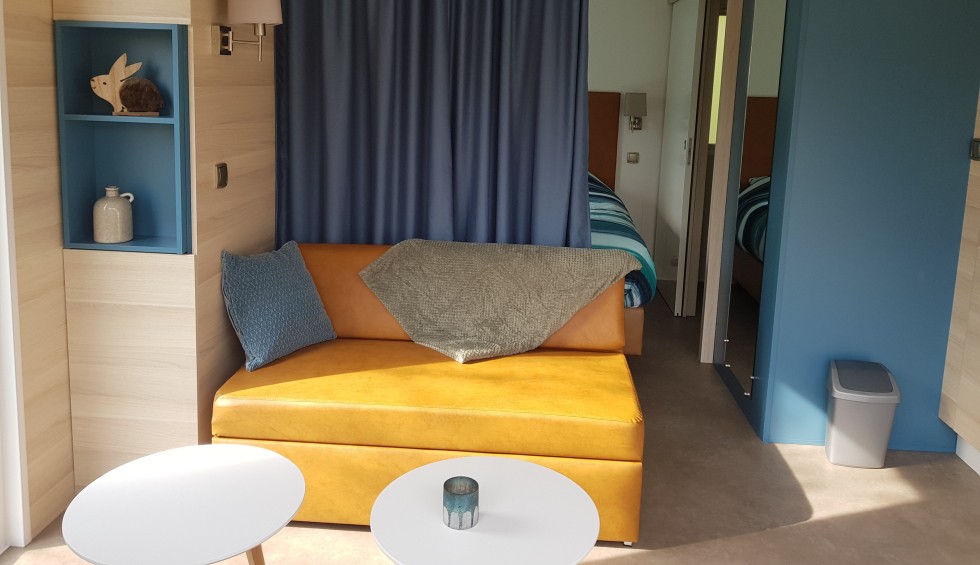 Berkenstudio de Luxe: the B&B experience near Borger
Are you looking for an unforgettable and extraordinary Bed & Breakfast experience in beautiful Drenthe? Then we invite you to experience the ultimate indulgence by booking a Berkenstudio de Luxe at our campsite in Gasselte, near the picturesque Borger.
Our Berkenstudio de Luxe offers you double accommodation, full of comfort and luxury. Imagine stepping into an oasis of relaxation. Enjoy the ultimate comfort of a spacious XXL shower, where you can enjoy invigorating moments. Rest at night on the soft pillows of two single box-spring beds and wake up refreshed every morning. In addition, the studio has a handy kitchenette with a 2-ring ceramic hob and a fridge, so you can prepare your own simple meals.
Berkenstudio de Luxe (numbers 106, 107, 108 and 109) are carefully positioned in a serene and quiet location on our campsite grounds. This ensures a peaceful and harmonious stay, where you can immerse yourself in the overwhelming beauty of Drenthe's natural surroundings.
And if that is not enough, the spacious veranda of the Berkenstudio de Luxe offers you the ideal place to dream away and enjoy the surrounding nature. Relax on the comfortable furniture of the outdoor set, while you are protected from the sun by the extendable sunshade. Let your worries drain away as you enjoy the soothing sound of the wind through the trees. Book today and give yourself the B&B experience you have always dreamed of.
Check availability here!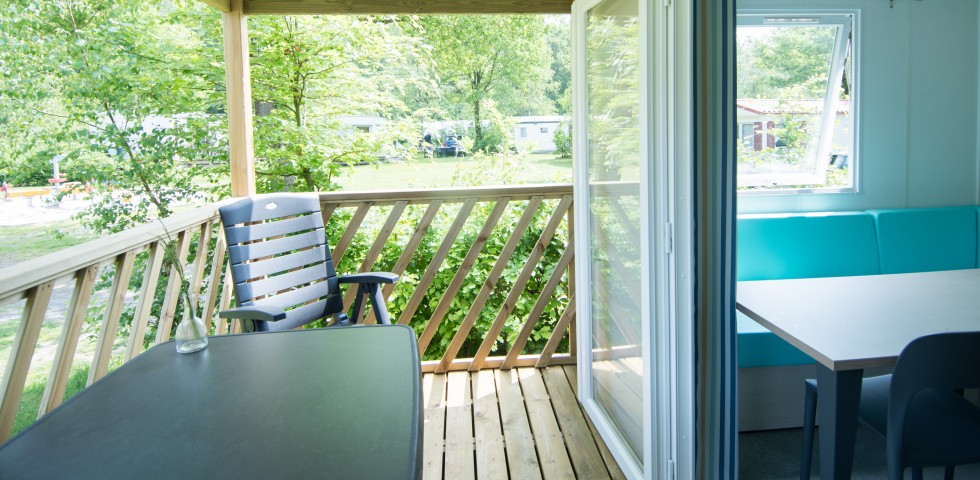 To be repeated and definitely recommended
Slept wonderfully in a Berkenstudio de Luxe. We had a beautiful teracce and all the necessary equipment was there. Friendly reception. Great. To be repeated and definitely recommended.
Toot van Tol
2022
Relaxed, quiet, tidy and welcoming campsite
Great campsite clean, quiet and spacious. Our stay in studio de luxe: clean, tidy and fully equipped with excellent beds and nice chairs on the veranda. Definitely recommended. We were offered a booklet with cycle routes from the campsite and the welcome package was certainly to our liking. In the immediate vicinity Borger and Gasselte enough opportunities for terraces and eateries. A place to return to!
Jeltje
08-09-2020
Peaceful, quiet campsite
Peaceful, quiet campsite with friendly people and everything is organised to perfection. Highly recommended for both seniors and families with young children. Less suitable for adolescents. The campsite is situated in a beautiful location with woods and heathland, in short, a sublime base for cyclists and walkers.
Henk Iedema
2020
Luxury rental accommodation
Although Camping de Berken is officially a campsite, when you stay in one of our rental accommodations, you will enjoy a similar experience as in a comfortable Bed and Breakfast. But in the middle of nature and healthy outdoor air of Gasselte! We are happy to help you on your way in this varied environment where there is plenty to do: from horse riding to cycling and from hiking to golfing.
Unique location Bed and Breakfast near Borger
That there is much to do and experience in this corner of Drenthe should come as no surprise. After all, Camping de Berken is centrally located in the UNESCO Geopark de Hondsrug, a beautiful and vast nature reserve of which you will find yourself in the heart when you come to stay with us. And as soon as you step off the campsite, the characteristic Drenthe hedgerow landscape is guaranteed to leave an indelible impression.
But even on the campsite itself, you will fully enjoy the blossoming nature of Drenthe. Our quiet and spacious campsite is characterised, like the average B&B, by its intimate and small-scale character. The luxury rental accommodations such as chalets and studios offer all the conveniences you need for an undisturbed and comfortable stay.
On-site breakfast options are also diverse, as you can enjoy the beautiful view and delicious fresh bread from the baker in the sunshine in the morning. The "forgotten groceries shop" on the camping site is ideal for doing small groceries and the Brasserie Flair located next to the site completes the burgundy experience.
More information
Impression of the bed and breakfast in nature